You see the benefits of an employee advocacy program—company branded messages reach 561% further when shared by employees versus branded channels. But your marketing team isn't quite ready to invest in a dedicated platform yet.
How do you build a program to encourage employees to share content, identify your most influential advocates, and measure your reach without an employee advocacy platform?
You don't have to commit to an employee advocacy platform to get your employees involved in social sharing. In some cases, it is best to prove the benefits of employee advocacy first before investing in technology. Here are specific ways you can get started.
How to Start Your Employee Advocacy Program Without a Platform
No platform? No problem.
Starting an employee advocacy program without a dedicated platform is more difficult but certainly not impossible. You just have to be willing to put in the extra work. Here are five steps to get your employees involved in brand advocacy on social media.
1. Get leadership buy-in
No matter your company size or industry, you need buy-in from executives to kickstart your employee advocacy program. Executive buy-in helps ensure you have the resources you need to launch your employee advocacy program—and often kickstarts employee participation.
But how do you convince executive leadership to invest in employee advocacy? If you have a small team or limited budget, leadership probably has a growing list of competing priorities.
Begin by presenting management with a documented plan, clear goals and statistics demonstrating the proven value of employee advocacy. These include:
In 2019, 79% of American adults were active on at least one social media platform.
The average employee has 459 LinkedIn connections, 433 Facebook friends, and 722 Twitter followers.
70% of adults online reported trusting recommendations from friends and family, while only 15% trusted companies' social media posts.
When you provide industry benchmarks and research, you show why employee advocacy is essential—and why it's necessary now. By gathering industry benchmarks, you're providing your executives with social proof on what your competitors and peers are doing. Executives will digest the idea of employee advocacy more quickly if you reinforce the benefits with case studies of companies in relevant industries, company sizes and use cases.
2. Identify your social rockstars
Next, figure out who your current employee advocates are. Your company likely already has a group of social media rockstars. The question is, how do you scale your social media rockstar so that everyone is just like them?
Start with a pilot group of social-media-savvy employees to build internal momentum. Ideally, your most social-savvy employees will come from your customer-facing teams, such as sales. Your sales team is more likely to use social media for prospect engagement.
Ask these questions to identify your initial employee advocates:
Which employees already post about us?
Who re-shares content from our brand?
Who has posted content within the past 30 days?
Which employees are our heavy social media users?
Who frequently requests or recommends social content?
Who shows the most employee engagement in their daily job?
Which sales reps use LinkedIn as part of their daily job?
Do a social media audit of your team to figure out who already has a strong social media presence and following. These employees will have the most significant impact on your employee advocacy. If you have LinkedIn Sales Navigator, you can identify which employees have posted on LinkedIn within the past 30 days. Besides, this will give you a valuable benchmark of the total percentage of employees sharing on LinkedIn.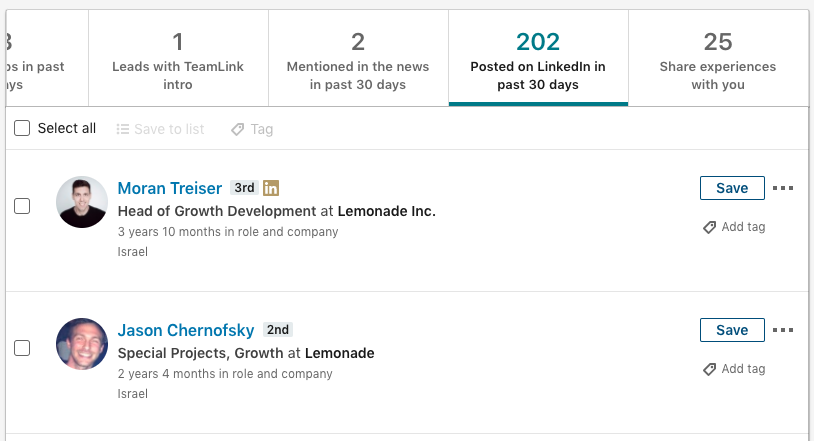 You don't have to get buy-in from the entire organization right from the beginning, but you do want to make it easy for the right employees to get involved with your program. By starting with a smaller pilot program, you'll create exclusivity, which can create a buzz within your organization. BCD Travel similarly approached employee advocacy. Their employees started hearing about an exclusive employee advocacy program, which led to a lot more excitement and participation.
3. Train your employee advocates
Once you identify your pilot group, provide them the training and support, they need to be the best employee advocates.
Training is sometimes overlooked but essential because it ensures your employees don't go rogue on social media. Whether it's the wrong hashtag, improper use of the brand guidelines, or just overall etiquette, training ensures your employees don't violate any social media policies.
Some areas to consider when developing employee advocacy training include:
Company social media policies
Training on each social media platform
How to find relevant, share-worthy content
Using social selling to build relationships
Best practice for social media engagement and sharing
How to build an engaged following
Regardless of what areas you want to develop, training should be provided in multiple formats such as in-person, webinars and written. It's best practice to cover all the forms to match your employees' preferred learning styles.
If you don't have the resources for social media training, consider asking social media rockstars within your organization to offer their insights and mentorship. Just remember to play to your strengths—some employees will be better at specific platforms or engagement strategies.
4. Internally market your employee advocacy program
A successful employee advocacy program means that employees are fully engaged. Internal marketing plays an integral part in getting everyone to understand the value of employee advocacy and what everyone's role is on social media. It's how you communicate to employees, promote the program, and build a sense of confidence.
Here are four ways to get your employees excited about sharing content for your brand:
Employee recognition: Show appreciation for your most engaged team members. Give them shoutouts in meetings or internal newsletters. Gather anecdotes from employees and share them broadly within the rest of the team.
Internal marketing: Promote your employee advocacy program internally—and get creative! One PostBeyond customer branded their advocacy program "The Share Station," making social sharing a fun program rather than an additional work-related duty.
Transparent communication: Make it easy for employees to share content. When you send regular email updates with the content you want your employees to share, you keep employee advocacy top-of-mind and minimize the amount of time it takes employees to post.
Gamification: Create a social engagement leaderboard to make employee advocacy a friendly competition. Track which employees' posts get the most engagement and regularly share the results with your team.
5. Measure your results
How can you tell if your employee advocacy efforts are working? The most common concern we hear from customers such as GoCardless, Dynatrace, and VTS, is that they send emails with links to their employees asking them to share, but they don't get a response back. They have no idea if their employees shared content, and if they did, what results came from it.
The best way to know how effective your employee advocacy program is to make sure it's measurable.
Which employee advocacy metrics should you track?
Measure the impact of your social media marketing and employee advocacy by tracking key performance indicators (KPIs).
The employee advocacy metrics you choose to track should relate to your company's goals. When you only measure vanity metrics (likes and shares), it's hard to show return on investment and prove that your program gets results. Tying advocacy to overall company goals and metrics helps you demonstrate the program's effectiveness to top leadership.
Sarah Goodall, Founder of Tribal Impact, explains:
"Measuring the impact of employee advocacy needs to be considered within the wider framework of your organization. Look at what your business is already measuring and then seek out correlations and comparisons based on the data you get from your employee advocacy tool."
Here are some core KPIs you can measure to benchmark your employee advocacy efforts.
If your goal is to drive sales (aka social selling), measure:
Lead conversion from social media
The number of leads added to the pipeline.
Number of calls or meetings generated
Revenue generated from employee posts
If your goal is to supplement marketing efforts, measure:
Total reach and engagement
Pieces of content shared per week
Top performing content
Website traffic from social media
Audience growth
If your goal is to boost recruitment, measure:
Number of new hires via employee referrals
Time spent per applicant
Cost per hire
Traffic from social media to your careers page
Offer acceptance rate
Related resource: Metrics Essential to Employee Advocacy
How to measure employee advocacy without a platform
The hard truth is, if you're scaling your advocacy program, it's very tedious to measure employee advocacy without a dedicated platform. Measuring social media metrics without the proper tools can involve a lot of manual work.
One way to track website traffic from employee posts is through UTM or CID codes. UTM or CID codes are customizable pieces of information that allow analytics software (like Google Analytics or Adobe Analytics) to track traffic sources.
For example, you might use the UTM code "webinar_campaign_advocacy" to indicate traffic from an employee post to a webinar signup page. Add the UTM code to the end of your content URL before asking employees to share, and Google Analytics will attribute traffic to that link from employee advocacy posts.

Related resource: A Comprehensive Guide to Employee Advocacy Attribution
As your workforce grows, an employee advocacy platform will save you time and money. If you're organizing and tracking your employee advocacy efforts with a spreadsheet, you're not alone! Many marketers start with a spreadsheet. But that method of tracking can be time-consuming, complicated, and unscalable.
As your team scales, you will likely need a tool to help you do employee advocacy well. For programs with over one hundred employee advocates, a platform will become mission-critical.
An employee advocacy platform can help you:
Scale social media sharing
Drive website traffic and inbound leads
Build your employer brand
Engage prospects on social
Measure success—without spreadsheets
Calculate how much you can save (and make) with employee advocacy with our ROI calculator.
Ready for an employee advocacy program that will scale with you?
"Social media should be about collaboration, not just marketing," says Neal Schaffer, social media expert. "Your collaboration with employees will empower your digital success."
As you continue to collaborate with employees, you'll want to scale after seeing initial success but this is when the rubber hits the road. Scaling a program beyond your pilot group gets drastically harder with more employees involved. We recommend investing in a platform and a partner who can help you grow and scale.
As your scale, you'll want to make sure that executive leadership is aware of the program's success. By securing executive buy-in, it will make it easier for you to justify a budget for an employee advocacy platform.
Ready to launch and grow your employee advocacy program? Download the Blueprint to Employee Advocacy for an in-depth look at everything you need to start a successful program.